About Elinor Stutz
CEO of SmoothSale™
#2 in Daniel Disney's compilation of Women Sales Leaders 2017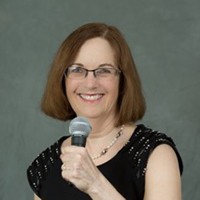 Believe, Become, Empower – became my mantra as I lay motionless with a severely broken neck. Upon seeing two visions forecasting how my life was about to be, I negotiated with the Great Beyond to help me heal.  I whole-heartedly knew I was about to embark upon empowering audiences far and wide.  After surgery, the hospital medical staff anointed me as, "The walking miracle".
Inspirational keynotes, based upon my personal journey, and as it applies to business, earn standing ovations each and every time.  The underlying message is,
Anything IS Possible with a flexible plan and long-term vision in place.
Live Your Legacy – I grew into the person I was destined to become through speaking, writing, and sharing my best insights.  In alignment with Smooth Sale, I agreed to undertake the position of Chief Business Development Officer for Powerful Women International Connections (PWIConnections.com).   Members are required to be involved in a humanitarian project.  Project examples include stopping human trafficking and helping released prisoners successfully transition to civilian life.
Elinor Stutz consults and speaks worldwide; call her today: (408) 209-0550
or use the Contact Form
Recognition:
"Number 4 of 24 Must-Follow Sales Leaders on Twitter" – Tenfold.com
"Top 1% Influencer" – Kred.com
"One of the Top Innovative Sales Blogs" – NowISeeIt and BizzHum
"One of the Brightest Sales Minds to Follow On Twitter" – CEO World Magazine
"30+ Top Sales Enablement Thought Leaders" – Knowledgetree.com
"Top Sales Influencer" – Inside View and Open View Labs
ABC-TV News
TIME Magazine
Entrepreneur.com
Sales and Service Excellence Magazine
US News Weekly, AllBusiness Experts
AM/FM Radio Interviews
To learn more schedule an appointment with Elinor today.
---

"It is no use walking anywhere to preach, unless our walking is our preaching."  
When I think of Elinor Stutz this quote comes first and foremost to my mind. Elinor is an amazing example for me as I continue to grow and expand in my own business! Not only is she the perfect client, but also she is often one of those people that I feel that I should be paying instead of the other way around. Just reading her writing, getting the opportunity to listen to her trainings and speaking with her regularly has been such an incredible gift in my life.
Many times in life, people teach one thing and practice another in their own lives. Elinor most definitely not only teaches but also walks her talk. If you are looking for someone to help guide you in your business to reach new heights and levels that you can only imagine in your mind then Elinor is my recommendation.
She has all of the elements of success that I have found to be necessary in today's unstable climate. She is Honest, She has Integrity, She is Committed 110% to herself and her own business and She clearly understands the importance of Collaboration and uplifting those that uplift others!

All my respect and Love,
~Malathy Drew ~ http://whisperingenergy.com