Attract the Right Job or Clientele:
How you adapt to resolving problems is almost like having a crystal ball for predicting your future success. Sure, frustration kicks in, but short tempers never work well. What does produce favorable results is uncovering where the train strayed off of the tracks. The ability to adapt to resolving problems applies to teamwork, customer service, technology issues, and relationships wherever you go.
My Story
The hub of my activity is Twitter. Between writing blogs, creating videos, re-tweeting, and building followings, the branding activity is a blend of sales, marketing, and public relations.
The private software system that I use to feed my many tweets into Twitter went down. My activity stopped, and my rankings fell somewhat. The demise didn't upset me nearly as much as the thought that the software might not be salvageable. It took approximately ten days to transfer the software to another platform and get my account up and running. All the while both my fingers and toes were crossed with wishful thinking included. In the meantime, I prepared for Plan B by investigating similar software. A return of the minimal amount paid to have the program operational was generously offered. That signals to me outstanding customer service. I was so appreciative of the saving of the software, I declined the offer.
The irony was some people, able to boast of larger followings on Twitter, had their accounts stopped for a couple of weeks around the same time. Given the U.S. news is rampant with stories of Russian hackers everywhere, that thought came to mind. Another explanation is that of software updates. Whatever the case, the people were blindsided and in fear of losing what they laboriously built. Thankfully it appears these accounts are coming back up as well.
And today a friend announced that while she has a webinar planned, all of her systems are down. She had to call technicians in to fix seemingly everything. At times likes these, there is no sense in becoming anxiety driven. It's best to take time off to exercise, catch up on errands, speak with good friends and hope that the best will come sooner than later. But, while our minds are attempting to relax, it is also wise to consider alternate possibilities should the troubled spots not be fixable. 

Your Story
No matter where an issue resides, maintaining calm is the advice of the day. You could have a difference of perspective with a partner, or the mission of an organization might change to your surprise. The better approach is to figure out together what is best for all. And then figure out what is best for you once the thought of others is out in the open.
Give thought to whether your approach to problem-solving can use a better approach.
Do you:
Attempt to fix situations while angry?

Are you able to meticulously ask for input from everyone involved to negotiate the outcome?

Peacefully figure out the best next steps?
It's safe to say that just about everyone feels anger at some point. Should this occur, the best is to exercise or experience the great outdoors. Coming back to a place of calm will allow you to set the next milestones in place. In the meantime, thank those who try to assist you and be appreciative for what is going well.
Sales Tips:
Regain calm when things go awry

Retrace steps that began the incident(s)

List out everything that may be affected

Confer with those involved per the disengagement they see

Negotiate an agreement for proceeding with the fix(es)

Determine if you want to continue on the same path after all is fixed

Revise your long-term vision should you decide to go down a different path

Set new milestones

Create a plan of action and the education now needed

Celebrate Success!
Following these guidelines will lead you to the Smooth Sale!
P.S. Send us your sales related questions to elinor@smoothsale.net.
Book Packages Available; training and speaking may be included ~ Call 408-209-0550 for details.
Click Here to Visit Elinor's Author Page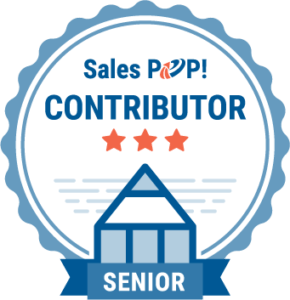 Visit EntrePerks for additional service to assist with business growth.