Attract the Right Job or Clientele:  Are You Manifesting Success? 
The title of today's blog might seem a bit odd for a primarily traditional sales orientation. But manifesting success comes in at least two forms with the possibility of more.
The power of positive belief that success is around the corner allows for greater focus. In turn, the focus allows for a serious critique of what is in place and what needs to be improved. And it is the improvement that leads to eventual success. The more traditional thinking includes persistence, follow-up, education, and refusing to give up all lead to eventual success.
My Story
Today's story is a tale of two personality types; one who believes she knows it all and of another other who has a quest for learning. Consider for a moment which type of individual you prefer. In my experience, those who believe they know it all become stagnant in their thinking. They refuse to experiment with new thought. It doesn't take long before they are behind the curve.
My friend, Nancy, finally revealed the truth behind a delay that involved my eventual participation. One person formerly on the team expressed severe doubt about my ability. Her issue continues to be, "Elinor always talks about learning. Will she ever know enough to do the job"?
Another Perspective
You could probably hear my laughter across the street when I heard the explanation. My advice is to always commit to continued education to remain ahead of the curve and avoid falling behind. For example, I read many of the articles attached to tweets. That's just the beginning as I read as much as possible in any given day. I learn from others, take classes, attend events, network, ask opinions of others, and the list continues.
Continued education is the sure way to develop our personal and professional lives plus greet success as we move forward.
The quest for continued education transforms into empowering others. By sharing the best of what I learn with those following in my footsteps, I help others attain the success they desire. If everyone were willing to learn, and then share the best of what they know, society would benefit immensely.
Today's example comes in the form of a free webinar I provided for the Sales Experts Channel. The topic is Sales Enablement and is presented from the sales and entrepreneurial perspectives. Many perspectives apply to the subject matter and so the webinar is designed to begin the multi-faceted conversation with a sales crash course included. You may listen by clicking this link.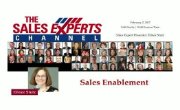 Your Story
Do you believe you are doing enough to advance your career? Time is limited, either as an employee or entrepreneur.
Are you one to push new ideas aside or investigate the possibilities?

What else might you incorporate but need to learn in order to experience improved results?

May time be saved somewhere in order to spend more of it on learning?
The best sales strategy is to always keep a running list for tasks and goals to be achieved. On a daily basis, cross off the ideas as they are completed and add to the list and the day moves forward. This in itself eliminates much wasted time that may instead be invested in learning. Moving forward with this philosophy will get you to where you wish to be ahead of schedule.
Sales Tips
Commit to continued learning.

Learn from everyone around you.

Question, Listen and Clarify for greater understanding.

Commit to teaching others the best of what you learn.

Continue the cycle of learning and teaching.

Notice the feedback from those you teach to take note on what works best.

Transform the best of what you teach into a new product or service.

Expand your followings and endeavors.

Write your memoirs.

Celebrate success!
Following these guidelines will lead you to the  Smooth Sale!
P.S. Send us your sales related questions to  questions@smoothsale.net
Sponsored By