Attract the Right Job or Clientele:
Given our hectic schedules, we sometimes push checking for metrics aside. But not knowing what isn't working can harm the outcome. Rather than let checkups on processes and statistics slide, it's best to schedule a routine checkup.
My Story
One might say I'm fanatical about checking statistics each day. I'm competitive only with myself as I want to see continued improvement. Of course, this isn't always the case, but overall, from year to year, numbers do continue to rise. For example, I follow Riseborders on Twitter for social standing. And other sites are scrutinized for the popularity of topics so that I know about which to continue writing.
Those in the profession of sales will monitor:
The number of contacts made daily

Communication styles in use

Outcomes of meetings 

Overall sales 
There is a correlation among all of this. Each person needs to remain on top of their activities.
Other numbers we want to see decline such as our online status. My website was pared back to primarily feature this blog. At the same time, a variety of collaborative efforts concluded with new ones to replace them. I expected numbers to be affected. But an alarm went off as the numbers alerted me to fix a problem.
There is no sense in continuing to do anything if no one is paying attention. However, it was strange that warm messages online continued to be received although it appeared visibility was lacking. I finally took my advice to check the reason for the poor statistics. Every site and every link was tested. The metric check helped me to pinpoint the error. One website that provides the RSS feed for a sizable audience was not working correctly. The blog feed was in need of being re-entered. The numbers now continue to improve. The time spent verifying numbers was well-worthwhile. 

Your Story for Verifying Metrics
You are most likely consumed with the have-to-do items whether you are an entrepreneur or an employee. All endeavors require taking responsibility for succeeding. Previous blogs have spoken to the following topics:
Maintaining a prioritized goal list

Having a running task list and continually update

Verifying numbers of contacts, appointments, and keeping a full sales funnel
Without these three items, the daily activity appears to be hit or miss. Authors need to sell more books; marketing people strive to reach more people, and salespeople always have their eye on the target. All factors are to be re-checked at designated times to alleviate stress and know that success is around the corner.
Do You:
Regularly schedule verification of what works well and what ceased?

Speak with peers to find how they handle problematic occurrences?

Take quick action to determine the appropriate fix and then implement?
The methodic reviews will lead you to improved processes. Should you have a team, the spirit will lift as they see the commitment to proper working order. More importantly, clients and customers will appreciate your dedication to the orderly business. A previous blog, "One Action Produces Results"  applies to working with both clients and peers. In addition to checking the metrics, gain additional insights from those in your everyday circles. 
Sales Tips
Prioritize work on a daily basis

Review all statistics concerning your brand

Examine why some numbers do not meet expectations

Check all links to ensure they work

Place fixing issues at the top of the list

Call customer service if you need help

Confer with peers to gain new ideas

Compete with yourself on prestigious listings to improve the numbers

Embrace efficiencies to continue to elevate your status

Celebrate Success!
Our mission is to help you achieve The Smooth Sale!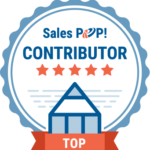 Visit EntrePerks for discounted proven services to assist with your business growth and goals for 2018.  
         

Book and Consulting Packages Available ~ Contact us for detail