Attract the Right Job or Clientele:
The time is now to recognize that the same old no longer works and to reposition our thinking. Positive thought is gradually becoming popular due to the writings of the Law of Attraction. But most people are still holding onto the old not wanting to make an effort to change.
My Story
It is far easier to see the negative in everything and remain grumpy. However, by testing positive thought, a flow of new ideas may surprise us. And then a continuum of testing and implementing takes hold. Next comes the starting point for launching whatever it is we desire.
What I just described is the process of transition. The further one moves forward, the farther back others remain. The decision becomes ours of whether to continue.
Early in my career, I paid attention to the newer idea of positive thought foreseeing specific companies on my client roster. The keen focus brought clarity and the results I desired. For more insights read, "Are You Seeking Your Motivating Force?"
Over time, the appreciation for each new day grew whether it be a good one or new learning awaiting me. The stark difference in how we think came alive upon posting a Facebook message. The note also intended to convey humor. Surprisingly, notes of one-upmanship, ego, and 'we're better off than you' came across. My thought comes from a place of having moved from sunny California to the east coast. The posting reads, "New year – new perspective; the sun is brilliantly shining for a balmy 14 degrees!"
Embracing positive thinking as a way of life includes adapting to whatever circumstances arise. Comments came my way touting the perfection of Southern California and included a picture of a person driving in a convertible. For me, the expression, "survival of the fittest" and extinction of dinosaurs came to mind. Although to them the weather there is perfect, no mention was made of smog, suntan lotion, or fires. Tragically, a couple of days later, the unthinkable flooding occurred. What does any of this have to do with business?
Times are changing. More women are speaking up, and attention is being given to pay gaps. However, it still takes imagination in foreseeing a new business environment. Sales Enablement is a relatively new trend in corporate, but my experience is the exact opposite. And one conversation lets me know that the disconnects still exists.
What if the office environment were to offer:
Equal respect when it comes to gender and culture

Welcoming of everyone's input 

Consideration of each idea

Bonuses available for implementation of the best

Genuine teamwork

Equal pay
Repositioning our thinking in the corporate environment is what will further enable sales. As you can see my thought is the exact opposite of those, who tout their way is the best. I applaud the effort of Iceland that now has equal pay as the law of the land.
On a personal note, to date, I have been privileged to enjoy sixteen extra years. I wasn't supposed to survive a broken neck, but I believed I could, and I did.
Your Story
Come to terms with whether you stick with the same old thinking.
Do you:
Enjoy each new day to make the most of it?

Are you guilty of playing games with words?

Do you attempt to hear out what other people have to say?

On a scale of 1-10, how do you rate for welcoming the opinions and insights of others?
Being stuck in one's perspective disallows the learning of new ideas, possibilities or negotiation. Should you be slow to change, try adapting one unique thought at a time.
Challenge yourself to think positively and track what occurs in the process. A word of caution though, as testing the new becomes frequent, you may need to find new peers whose thinking is similar.
Sales Tips to Reposition Thinking
Remove ego and one-upmanship from communication

Welcome new thought

Think positively in every situation

Learn from bad experiences to empower the future

Make exchanging ideas with others a practice

Join different types of associations that include people of multiple cultures

Travel to see how others live

Appreciate every day no matter what transpires

Associate with others who think similarly

Celebrate Success!
Our mission is to help you achieve The Smooth Sale!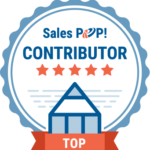 Visit EntrePerks for discounted proven services to assist with your business growth and goals for 2018.  
         

Book and Consulting Packages Available ~ Contact us for detail