Inspirational Speaking Engagements
with Elinor Stutz
Motivate and Inspire Audiences At Your Next Convention
– Hire Elinor!
Inspirational / Motivational  Speaking Topics Sampling:
Believe, Become, Empower
Build A Global Audience that Fuels Sales
Sales On A Higher Plane
Elinor Stutz Encourages Audiences to Stand Up!
Stutz' incredible journey begins with a surgeon's prediction of paralysis due to a broken neck.  But two visions convinced Stutz to fight for her life using belief, vision and sales skills.  Four days later she walked out of the hospital with a revised vision for empowering others.  Audiences are brought to their feet providing standing ovations.
Book Elinor For Your Next Business Event
Call 408-209-0550 Eastern Time
2017 Schedule:
Webcasts:
Recorded Live:  
BrightTALK Webcast
About this webinar
Welcome to The Sales Experts Channel! We are a community of 63 sales authors, trainers, researchers and thought leaders collaborating here to answer your questions about how to sell more effectively.
Recorded Apr 13 2017 49 mins
---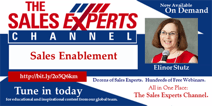 Recorded:
About this webinar
A holistic approach to sales enablement will be provided in this webinar. Sales training is only one piece of the puzzle. The webinar will include communication and collaborative strategy; social media company policy; and recruitment practices. Participants will learn how these elements are to function together for an effective program.
Recorded Feb 2 2017 46 mins
---
Upcoming Panelist on September 5 at 8 am PST.
The Sales Summit track for that day is Sales Enablement, and the panel's specific topic will be Defining Sales Enablement in 2017 and Beyond.
Host will be Alice Heiman, Guest Panelists include Mike Kunkle and Nancy Nardin
---
Podcast: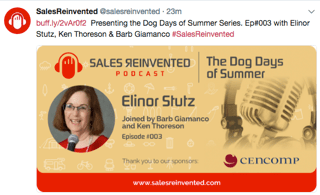 ---
Global Finance & Credit Conference & Expo – Schaumberg IL, Fall – TBA
People from around the world will be gathering to learn how to build a financially sound business.  This conference is the only event of its kind bringing together credit and finance management professionals from all over the world. Designed by business finance professionals for business finance professionals, this conference will explore critical industry issues.
Expectations in Working with Elinor
 Prompt reply and delivery
 Professionalism every step of the way
 Connection with your audience
 Collaborative promotion of your event – Top 1% Influencer according to Kred.com
 Prompt follow-through after the event with you and clientele.
---
Visit Elinor's YouTube Channel
Recognition:
Elinor Stutz's personal brand is one of elegance, class, and knowledge. Her elegance and class come through in every conversation with her." – Jim Beach, Host of School for Startups Radio Jim Beach
"When Elinor Stutz speaks, you feel a personal connection as well as inspired and motivated to achieve unprecedented success.  Her personal story is heartfelt and miraculous.  She has the unique ability of intertwining outrageously funny stories, advice for building relationships and solid business strategies in a most memorable talk.  It's no wonder she receives standing ovations time after time!"
– International Women's Day Conference
"Elinor is a wonderful speaker. She immediately grabs your attention with her positive energy and interactive style. Elinor provides valuable information that can change the way you do business and increase your bottom line. Her 'Nice Girls' approach to sales is unique and refreshing."
– ZaLonya Allen, Ph.D. Author/Speaker
"I was so impressed with you while I was talking with you at the CBEA conference when I purchased your books and CD's. Your unique way of paying attention to me really made me feel valued. I felt a sense of honor and dignity was given to me throughout the transaction. Although it was just a brief moment, I felt I have encountered a breath of crisp fresh air in a wonderful Autumn morning in that conference room."
– Joshua Chao, Associate, Good TV Taiwan and China
"I thoroughly enjoyed your presentation and loved the great turnout that your topic AND name brought Thanks for your efforts in making today's presentation a success!""Women's Initiative would like to thank you for your presentation"Relationship Selling Gets Results" at our recent Business Conference, Live Your Dreams, for women entrepreneur. Participants also felt that your job as a seminar presenter was excellent… In response to a question about what they liked best about the seminar, participants wrote comments such as enthusiasm, great setting, great information and networking, netowrking and the reminders to say yes to opportunity, discussion on dealing with "no" and difficult situations, networking tips and speaker's enthusiasm."

~ Alma Elizondo & Pamela Mejia / WIBC Seminar Team

~ Jen Berkley, WIC Coordinator, Women in Consulting,
"You were so informative and your field stories so entertaining, you should have your own PBS television show!"

~ Testimonial given at the Circle of Women Conference
You're a very dynamic, fun and interesting speaker and you had really useful information too! Your suggestion to review my accomplishments and re-set my stretch 12-month goal every six months has added speed to my progress!"

~ Jennifer Flaa, Vettanna
Additional Praise:
"Elinor's presentation at the Expo was dynamic, full of impact and experiential sales tips, especially focusing on relationship building."– Paula Constantino, Women's Support Team
"Thank you for a great presentation! These are important skills and I learned a lot. …They were ALL taking notes and we
received several gracious comments. You made it a wonderful event."
– Sarah Sherwood, Silicon Valley Women in Business
Past Events
Past Conferences:
International Women's Day, A Global Event
Powerful Women International, Paris France – Keynote Speaker
Michigan Women and CEED, Keynote Speaker
International Virtual Assistant Association, Keynote Speaker
Society of Government Meeting Planners National Convention
MoneyFest Conference Hosted by The Learning Annex
Women Small Business Expo
Past Events
Past Events:
Powerful Women International, Paris France
Overcoming Sales Sabotage Tele-Summit
Shirley Kerr and her Virtual Network
Arizona Small Business Administration, Phoenix
CREW Sacramento
CREW Silicon Valley
DSWA, Sonoma County
East Bay Women in Business
Fresno Women's Network
NAWBO Sacramento
Society of Government Meeting Planners
The Learning-Cafe
Women in Consulting
 Stockton Women's Network
Chamber of Commerce Events:
Chamber of Commerce Events:
Lafayette Chamber Entrepreneur Club
Morgan Hill – Women in Business
Novato Chamber – Women in Business
Petaluma Chamber – Women in Business
San Francisco – Women in Business
San Ramon
San Rafael
Rohnet Park
Sausalito and Marin – Women's Alliance
Community Service:
Community Service:
Career and Business Resource Fair
CSIX for job seeker
California Business Education Association
SBDC NxLeveL Entrepreneurs
Women's Initiative
Tomorrow's Leaders Today